Shock As Prophet Owuor Prophecies A Deadly Nuclear War That Is Set To Hit The Earth Soon.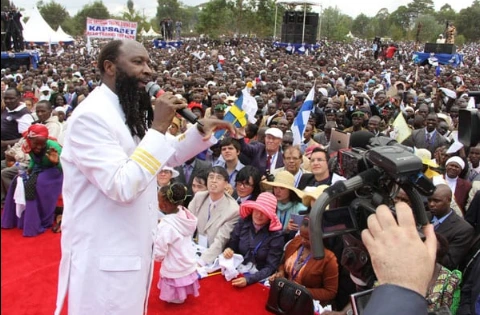 Who is Prophet Dr. Owuor?
A widely acclaimed Prophet, Dr. Owuor's rise to the world stage started in the humble village of Goma, Bondo.
Born in 1966 to Hezekiah and Margaret Ochieng, Owuor is the second born in a family of nine – six girls and three boys.
He schooled at Wambasa Primary, Yimbo, before transferring to Jusa in Siaya
Shock As Prophet Owuor Prophecies A Deadly Nuclear War That Is Set To Hit The Earth Soon
At a time when his church, Repentance, and holiness ministry have been facing sharp criticism, the self-proclaimed mightiest prophet of the lord, Dr. David Owuor, has risen up to the occasion and warned of nuclear war that is set to hit the earth.
In a live interview with Jesus is Lord Radio, the controversial prophet is heard saying; "Blessed people, here is the word of the lord, this is what the lord says; I am coming to destroy the earth says the lord. I am coming to destroy the world because of rebellion, I sent you my voice to prepare you for the glorious coming of the Messiah and you did not pay attention, you continued with your things and your lies, and little did you understand who the giver of life is. It is high the lord and apart from me, there is no savior.
So blessed people, this past night the lord asked me to step forward and strike the earth with the unbearable judgment of God against sin and the lord said that because this generation has been largely hitless that when he sent us to prepare you for the glorious coming of the messiah until now there hasn't been global repentance across the different nations the many national days of repentance together it was a global day of repentance and the lord asked me to step forward and strike this generation with the unbearable wrath of God.
And when I stepped forward and lifted my left prophetic finger towards heaven, the lord struck the earth very severely. This would make COVID-19 look like nothing. When I stepped forward and struck the earth with the coronavirus this would make Covid look like nothing and when I struck the earth as commended by the lord this past night then there was a nuclear war that broke out in the world.
Nuclear war is coming to the Earth I have seen it already. And the lord took me to Europe and people were trying to flee, they were told to escape
Prophet Owuor's Biography
The second-born in a family of six studied at Makerere University in Kampala. He could not complete his education at the university owing to unrest in Uganda but later transferred to the University of Nairobi where he studied for a Bachelor of Science degree.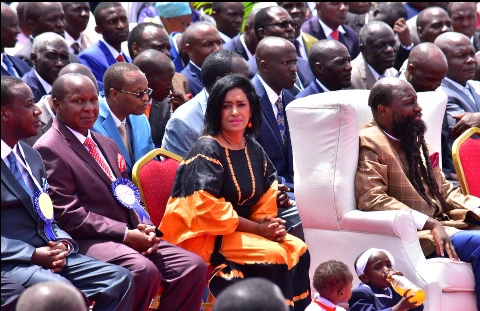 After completing his undergraduate degree, he undertook masters in genetics at the University of Nairobi. Being one of the leading students, he got two scholarships to Germany and Israel. He chose Israel. At Ben Gurion University, he changed his program from plant genetics to biochemical genetics.
On graduation, he returned to Kenya briefly and worked for the United Nations Environment Programme (UNEP) as a volunteer. He went back to Israel in 1994 for a doctorate in biochemical genetics at Haifa University, where he specialized in DNA sequencing.
After completion, he went to the University of Chicago Centre of Pharmaceutical Biotechnology in the US and specialized in transduction (advanced DNA science). He then moved to the University of Medicine and Dentistry in New Jersey, where he lectured and researched.
He says he was attached to a Cancer Institute as a specialist and focused more on researching tumor genesis and how it grows. He worked at the center until 2003 when he left and started preaching.
Owuor, who is not married, says: "In this calling one cannot be able to raise a family because you are always on the move from town to town, country to country."
Having a family, he says, will tie him down and he may not be able to follow the will of God.
He says he had a son in Israel and almost married the mother but he moved to the US and the girl's family refused to let her go with him. While in the US, he also cohabited but the woman left after he started seeing visions.