'She called us to come to say goodbye:, Mampintsha's mom has died Weeks after burying her son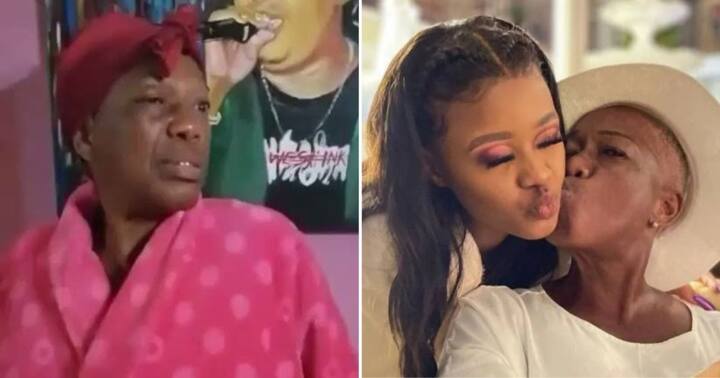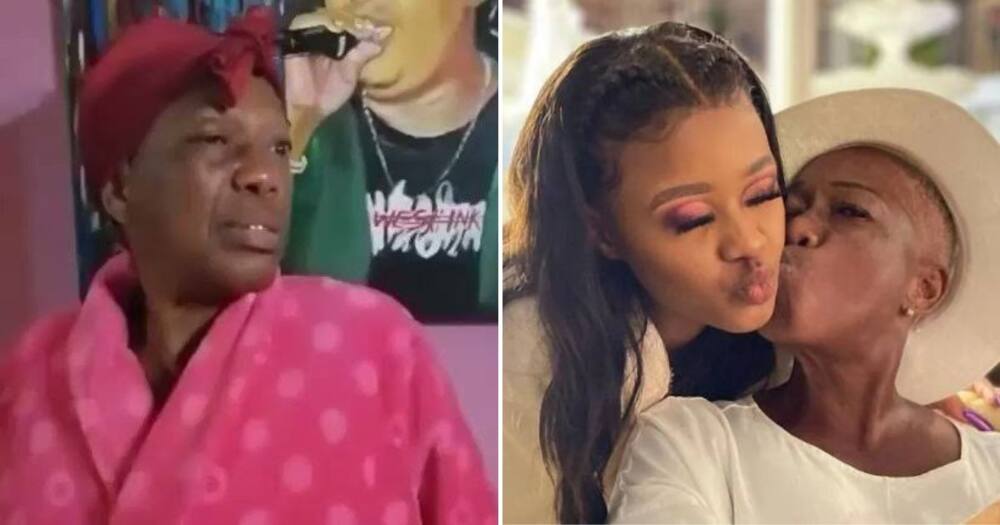 Weeks after burying her son, Mampintsha's mother Zamanguni Gumede died.
Mpintsho's mom's death was confirmed by the late Big Nuz member's sister, Pinki Gumede, to Daily Sun. The devastated daughter said the last time she saw Zamanguni, she was in high spirits and didn't show any signs of giving up on her health. Sadly, Pinki said she was called back to the hospital shortly after visiting her mom.
Mampintsha's mom passed away she enabled her son to abuse wombn through physical abuse, cheating and spreading diseases up until his death and she had the odesity 2 have a big mouth about respecting culture for her d€ad son instead of Babes celebrating her freedom. Good riddance

— Matilda (@Bazothise) January 16, 2023
Gumede was recently hospitalized after suffering a stroke. Her son, Big Nuz musician Mandla "Mampintsha" Maphumulo, died last month after also suffering a stroke.
Mampintsha's mom, Zamanguni Gumede, has sadly died after being hospitalized shortly after her son died of a stroke
Pinki Gumede, Mpintsho's sister, confirmed the news, expressing her grief at losing two people close to her in less than a month
Some Mzansi responded to the sad news by blaming Babes Wodumo, claiming that her strange mourning process caused Zamanguni's death
Those blaming Babes, are you all ok? The mother was already sick way before Mampintsha's death. Manje uBabes uhlanganaphi? Sanunxila
Zamanguni Gumede Confirmed Dead
Mampintsha's sister Pinki Gumede confirmed the news
"I was about to sleep when I received a call from the hospital. I was told to rush to her bedside because she wanted to see us. When I got there, she was already in drips. She was surrounded by doctors and nurses trying to assist her."
"She wanted to see Sponge, Mampintsha's son and I told her he was not around. I could see the sadness in her eyes, but she did not say anything."
Mampintsha's Mom – Zamanguni Gumede passed away last night in Westworth Hospital. She died at the age of 64, and her sickness got worse after her son's passing. #RIPGUMEDE @BabesWodumoFans #BABESWODUMO pic.twitter.com/tldGPT9z7I

— AfroMambo (@afro_mambo) January 16, 2023
She said Gumede called her just before passing to ask her and her children to come to say goodbye.
"She called us at 10 pm to come to visit her at the hospital, me and my children. When we arrived she said she wanted to say her last goodbyes. She left us at 11 pm.

"She held our hands and gave us all a message. She said she was saying goodbye. Her last words to me were that I should look after the children and she will miss Mampintsha's son".
Gumede had asked Pinki to bring Mampintsha's son to the hospital, but she told her mother she would bring him in the morning.
"She said there was no time. She told us she loved us and we should look after ourselves. She said that she was very tired".
Pinki said she was heartbroken at the loss of her mother and brother in a matter of weeks.
"I don't know why they have left me. I am not okay."
Last week Pinki said her mother was not coping with Mampintsha's death.
"She is not taking Mandla's death well. She started feeling ill before him but got worse when he was admitted to the hospital," she said.
She said Gumede needed private medical care and psychological assistance to deal with losing Mampintsha, but they were hopeful about her recovery.
"The doctor says her liver has been affected and she had a stroke. But her stroke is not bad. She will not be disabled if she takes her medication. She has not been able to eat properly and that is affecting how she takes her medication."
…She told me she was old and that she was leaving. She asked if everyone was around, and I said yes. She wanted to see Sponge, Mampintsha's son and I told her he was not around. I could see the sadness in her eyes, but she did not say anything. She gave us her blessings and we spent a bit of time with her. We then left. At about 10:00 pm I received a call informing me that she's dead," continued Pinki.
Pinki also told the publication that she was not coping with the deaths of her brother and mother, "I am definitely not coping, it's a double sword for me. I lost two important people within a space of three weeks. But what makes things even harder is that we were not financially prepared for this. As far as policies are concerned, Mampintsha took care of everything. We were still trying to get things in order, but I guess the time was not on our side".
Zamanguni Gumede Confirmed Dead
According to Mampintsha's sister Pinki Maphumulo, their mother, Zamanguni was fine during the day when they visited her, she was even making jokes and everyone was laughing.
Barely a day later, Pinki says the hospital then called her back because her mother had asked to see them but when she arrived at the hospital she was already surrounded by doctors in drips.
SOME TWITTER REACTIONS
@_Sabelo_Ngubane said:
"Although she was devastated about Mampintsha's passing, I feel that Babes worsened the situation by her behaviour of not mourning for Mampintsha. This is so sad."
@LwandleEL shared:
"Blaming someone for someone else's death is wild."
@Riccardo_Elle posted:
"It was too much for her, she couldn't handle her son's passing "